What We've Accomplished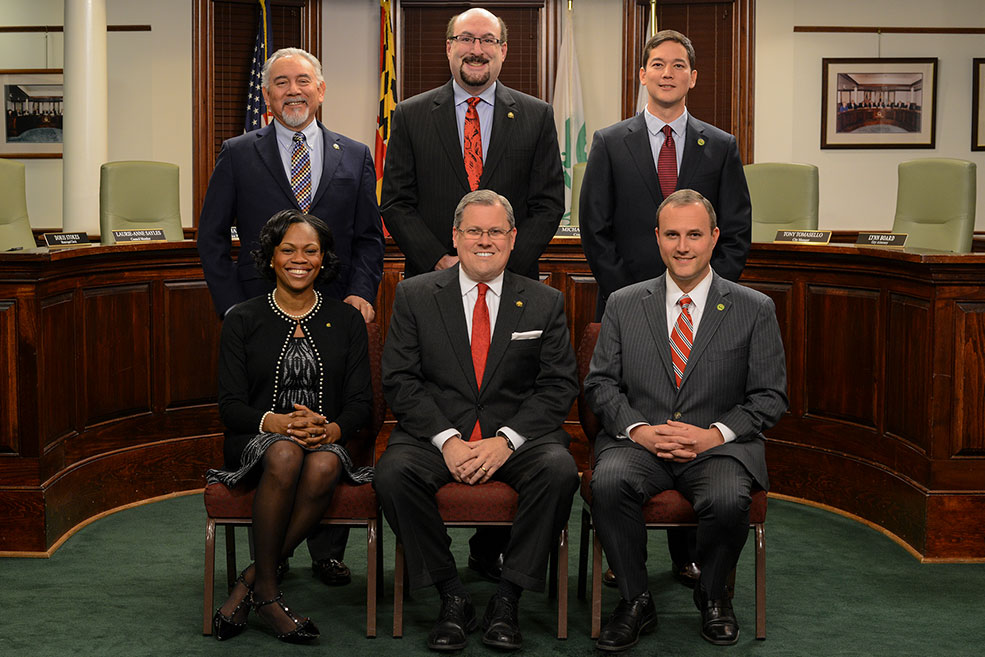 It's about *we* not *me.*
While I am proud to have contributed meaningfully to a substantial list of achievements we've made as a City over the past 14 years, I want to first acknowledge that our greatest achievements have been collective, not individual. To be clear, I believe I've played a valuable role, but we would not be in the position we are as a City without an all-around strong team – my City Council colleagues, our staff, our volunteers, our community partners, and our residents.
As an elected body, this Council and I have been effective in working with our talented and professional City staff to get things done in service to you.  Even as we get further down that road of transition from a smaller organization to a larger, more formally-organized government, we remain lean, efficient, and dedicated to providing excellent service.
We have maintained the lowest tax rate for any of Maryland's largest municipalities with only one property tax hike in the past 50 years. We are debt-free. And citizen surveys reflect the overwhelming satisfaction of our residents with the level of service we provide.  Those are strong fundamentals.
That said, it hasn't been our practice to rest on our laurels and become complacent. Focusing in on just the last few years, here's a list of some of the things that we've accomplished:
Service During the Pandemic
While Gaithersburg falls under the umbrella of the Montgomery County Board of Health, we took on a number of important supporting roles during lockdown.
Anticipating that there would be a large population in our community who needed assistance, we worked with Seneca Creek Community Church and a number of our non-profit partners to form the Gaithersburg CARES Hub, which delivers food to people who are ill with or recovering from COVID, collects and distributes food and supplies to people in need, and assists displaced families. The Hub consistently serves among the highest number of families of any of the county service centers.
Our City became a clearinghouse for information for those who needed help and those who were able to give help – through food and supply donations, cash sponsorships, or volunteer service.
The Council and I approved our Parks & Rec team's great idea to form Study Bubbles, which are clubs for school age kids, offering a safe and conducive learning environment during virtual school. 
We worked with County, State, and Federal partners to connect our local businesses with assistance to keep them going during lockdown. We also added our own Microgrant Program to the mix and to help businesses within our city limits.
Business & Economic Development
Over the 14 years I've been in office, the Council and I have made enormous strides in economic development, fostering a healthy local economy and bringing thousands of good job opportunities to the City.
Perhaps our biggest success in 2020 was landing the huge Novavax expansion, which will result in a large, beautiful, new campus for the company and close to 1,000 new jobs here in the City.
We successfully advocated for the expansion of our City's Enterprise Zone, which will provide tax incentives for businesses and development in the Olde Towne and Lakeforest areas.
We approved the first Wawa and Royal Farms in Montgomery County. 
At the former Leidos property (at Rte 124 and 355), we approved a proposal likely to turn into a new life sciences campus and bring more good jobs to Gaithersburg.
In Kentlands Market Square, we approved KIMCO's redevelopment plan, which will further revitalize the area.
Public Safety
The new police station project at 16 South Summit Avenue is almost complete, with an opening in late summer or early fall of 2021. Not only will this facility be a tremendous resource for our police department, enhancing their ability to serve the community in a number of ways, it will also be the home of new community meeting spaces and a new Mayor and Council chamber.
We passed a ban on weapons on City-owned property (which is the extent of our authority).
Our police officers and our code enforcement team continue to have an exemplary record of interactions with the public.
Transportation
The I-270/Watkins Mill Interchange opened in 2020. Because of lockdown, it's hard to see yet how much of a game-changer that will be for Gaithersburg, but the Council, the staff, and I worked many, many hours to help get that project funded and open – and we're really excited about it!
In 2020, in partnership with the State and Federal governments, we opened the NIST shared-use path, for pedestrians, joggers, and bikers, so that now, people can get all the way around the NIST campus without having to cross a major intersection.
The Council and I approved a new road code in the City that will enhance the pedestrian and biking experience on all new roads.
We continue to work with Montgomery County to facilitate one of our top transit projects, the Bus Rapid Transit project, which will serve Gaithersburg along Rte. 355.
The City will be a party at the table for Phase II of the Governor's I-270 expansion – the section from I-370 north to Frederick.
Affordable Housing
The Council and I strengthened our affordable housing ordinance to expand the income levels eligible, ensure that the ordinance applies to senior housing, and extend the control period.
The inventory of affordable units in Gaithersburg, either online or planned, has grown by 36% (from 406 to 551) in the past five years.
We approved new affordable units for seniors at Washingtonian North.
Quality of Life
We passed an ordinance regulating short-term rentals (e.g. AirBNB) in the City.
We cut the ribbon on Discovery Park and the Olde Towne Park Plaza. In the next couple of years, we'll be adding the Pleasant View Park (former CPSC site) to our long list of recreation facilities.
There are new turf fields (with organic infill) coming to both Kelley Park and Robertson Park.
The Council and I implemented an ordinance and regulations governing the installation of small cell facilities in our neighborhoods.
We built the new gate and ornamental fencing for the Forest Oak Cemetery, improving the 355 streetscape.
Our events team dramatically expanded the footprint at both Oktoberfest and Celebrate Gaithersburg. They are wonderful events, and we cannot wait to do these in-person again!
The Gaithersburg Book Festival has attracted more than 20,000 attendees several times and is poised for further growth.
Environment
We've begun a series of storm-water/watershed improvement projects that will reduce the pollution coming from our City that goes into our streams – and ultimately to the Potomac River and Chesapeake Bay.
We've implemented an energy efficiency audit of City facilities and will use the findings to measure our efforts to reduce our energy consumption.
The City opted into Montgomery County's lawn and pesticide law, which will further reduce the pollutants going into our streams as well as exposure to health risks of certain products.
Our Public Works team has also begun a project to convert all of our street lights to LED. (This is something we've wanted to do for years, but we only recently got the necessary cooperation from PEPCO.)